11 Oct 2022
Thousands of security professionals descend on London to source, network and learn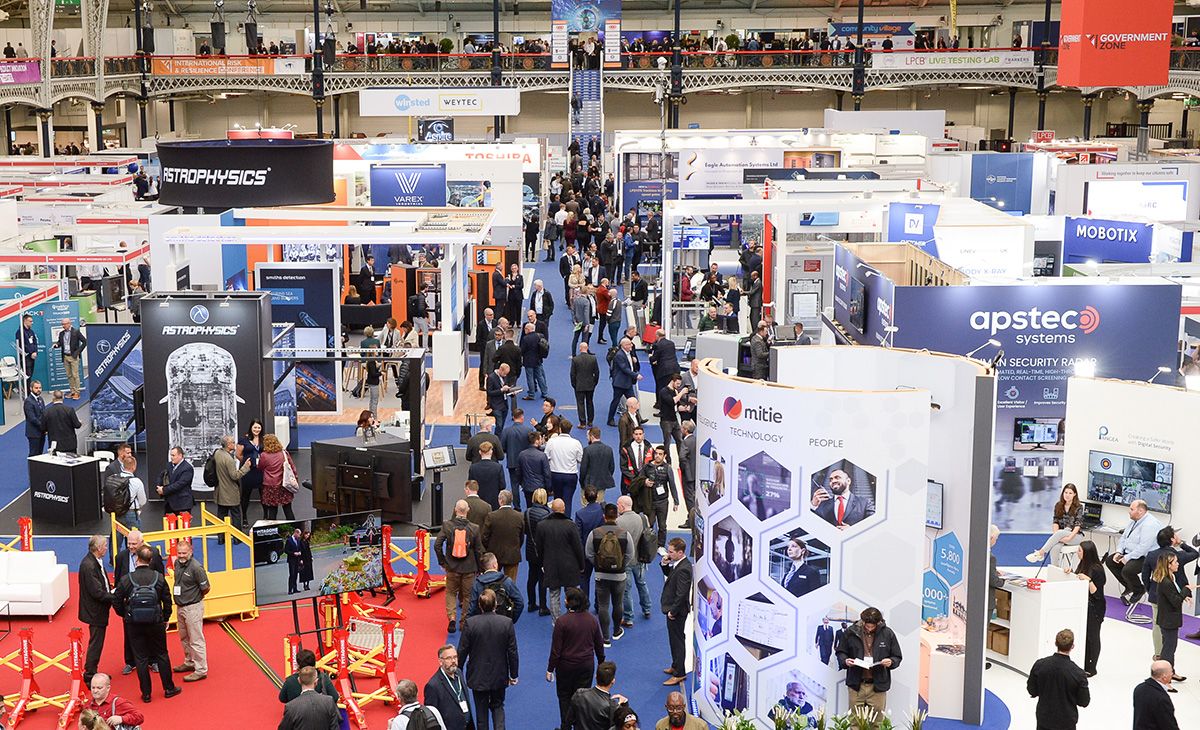 Thousands of security professionals, representing more than 70 countries, descended on the capital from 27-28 September as International Security Expo returned to showcase the very latest technological innovations to protect people, businesses, critical national infrastructure and nations.
With more than 300 companies demonstrating thousands of the most cutting-edge products and solutions, attendees were provided with an unmissable opportunity to gain in-person demonstrations and insights, helping them understand how technology can meet current and future challenges.
New product launches draw in the crowds
Demonstrating the event's invaluable role in facilitating new product launches, many exhibitors took the opportunity to unveil their latest innovations, sharing all-new technologies and refreshed solutions to a packed audience of vetted, international buyers.
Among them, Apstec Systems announced the launch of a new version of its Human Security Radar®. Version 4 of the innovative HSR™ system provides high-throughput, low-contact security screening and ensures a seamless security experience for people being screened. It delivers proven and effective functionality in an attractive, smaller, and more mobile unit suited for deployments at prestigious locations.
Elsewhere on the show floor, Apex Vanguard demonstrated its Hecate Ruggedised Tactical Camera System – a specialised IP67-rated multi-platform camera system featuring a wide view day camera, IR night camera and a FLIR® thermal imaging camera all in one system. It is supported by an integrated COFDM microwave transmission module with all the video and data transmitted to a fully functional ergonomic hand-held receiver unit.
Demonstrating two new product launches, LINEV Systems UK Ltd revealed its PROTEUS range of baggage x-ray security systems. The range is fully equipped with the latest AI features to help detect pyrotechnics, flares, and smoke bombs. The company also showcased its Clearpass C.I, a revolutionary X-ray scanner designed for smaller spaces. With a footprint of just 0.85m², the technology offers exceptional mobility and the fastest scan acquisition time available on the market. It is available with advanced contraband detection software, designed to detect contraband 'on' or 'in' the human body. By allowing selective area focused screening, it also reduces screening and overexposure to other parts of the body.
Speaking about this year's event, Tim Betts, Sales & Marketing, Linev Systems UK, said: "International Security Expo is an essential event for us, the engaging show floor packed with attendees allows us to network and generate new leads following our rebranding. Simply put, International Security Expo is the flagship event for us in the UK security industry."
X-ray capabilities were also the focus of the Videray stand when it announced its new PX Ultra – the most powerful handheld backscatter X-ray imager on the market. After nearly three years of development and testing, the PX Ultra uses the first 160 keV x-ray source, enabling operators to see through up to 10mm of steel. It features the same ergonomic form factor and intuitive software used by the popular PX1, reducing its scatter and leakage measurements by a factor of 2.
Meanwhile, Canadian defence and security start-up, Patagona Technologies joined the event to demonstrate its THREATDESK analytics and investigations platform. It provides OSINT analysts with the tools to combat coordinated information operations by state and non-state actors. It allows analysts to gain deep insights into online threats such as coordinated influence operations, online radicalisation, and information security threats by leveraging hundreds of online data sources from news, forums, and social media platforms. Once collected, it uses advanced AI methods to identify and respond to coordinated inauthentic behaviours.
Mark Zayek, Director of Global Marketing, Astrophysics, said: "International Security Expo is a great opportunity for everyone to come together with common interest in the same market. With both UK and International attendees, the event hosts a great mix of exhibitors and customers, which is great for generating brand awareness. The friendly atmosphere with competitors' side by side allows the audience to see the top products all in one place."
Product innovations showcased live
Across the show floor, product demonstrations helped bring the latest security technologies and solutions to life. In the LPCB Live Testing Lab, crowds gathered to witness a team of professional forced entry specialists who put a range of physical security products through their paces. Located in the show's Perimeter Protection Zone, in association with LPCB, supported by Perimeter Security Suppliers Association (PSSA) and sponsored by Barkers Fencing, the line-up included products from exhibitors including Eagle Automation, CLD Fencing, Bradbury Group, Jacksons Fencing, Lochrin Bain and Surelock McGill.
Elsewhere on the show floor, the Product Innovation Theatre provided a vital platform for the likes of QinetiQ, Greyscan Australia, T3K.AI, Pimloc Limited, Everbridge and Global Security Solutions to share an in-depth look at the rationale behind their latest innovations and the challenges they are designed to meet. For example, Smiths Detection showcased its Canary Biological Detection Technology, which uses a genetically engineered immune cell called a "biosensor" to identify and bind to a specific target. When a pathogen is found, a reaction starts causing the biosensor to luminesce. By measuring light output from the cell, it can determine if the target biological is present in the sample.
Returning to the Product Innovation Theatre on day two, members of the Defence and Security Accelerator (DASA) team introduced three suppliers funded under the Innovative Research Cell (IRC) 2020 for Explosives and Weapons Detection. The suppliers: Iconal Technology, Fraunhofer UK & IRSweep and Metrasens shared insights into the innovative projects funded through this competition and the opportunities for like-minded businesses to get involved.
Zoning in on sector specific challenges
Among the sector specific zones helping attendees target the suppliers specialising in the products or solutions most relevant to their challenges, the updated International Risk and Resilience Zone highlighted the fundamental aspects of Resilience, Prevention, Response and Recovery. It united specialist manufacturers and service providers of products needed to remain resilient during a crisis.
Speaking about the increased focus on resilience, Chad Simpson, Resilience and Security Lead, Science Museum Group, said: "The show extensively covers both the security and resilience sectors, which makes it a no brainer for somebody like myself who needs to be clued up on industry and market trends for both. It really is the place to attend for new product innovation, to witness live demonstrations of high-tech products, and learn about how they work in practice, thanks to the wealth of expertise on each stand."
Meanwhile, the revered Government Zone returned to demonstrate the continued support the event receives from UK Government. And, with attendees joining from Border Force, British Transport Police, JSaRC, Home Office Publicly Accessible Locations Policy team, UK Defence and Security Exports (DSE), National Counter Terrorism Security Office (NaCTSO) and FCDO Services, it was a one-stop shop for the latest insights into Government initiatives and tactics to respond to current threats and challenges.
Further highlighting its critical role for Government and industry to align, the event also played host to the National Crime Agency (NCA), Counter Terrorism Policing (CTP) and the Home Office, who held a closed door, invite only event for Project INTERKNOW – the UK National Response to the emerging threat of privately manufactured and 3D Printed Firearms.
Guest speakers representing EUROPOL, ATF, Dutch Police, Kings College London, and Armament Research Services (ARS) came together to cover the history of 3D printed firearms to the Liberator to current models. Together, they explored the threat, sharing case studies and the investigative opportunities and intelligence requirements to enhance Law Enforcement and Private Industry's collective response.
Standing room only as industry experts take to the stage
While the show floor played host to the latest product innovations, this year's hotly anticipated conference programme saw record crowds gather to hear from industry leaders. Three streams ran over the course of the two days including the Global Counter Terror & Serious and Organised Crime Summit, International Security Conference, and International Risk & Resilience Conference.
In the Global Counter Terror & Serious and Organised Crime Summit, Tom Tugendhat MP, newly appointed Minister of State for Security, joined attendees to deliver a short address. He recognised the importance of transparency and freedom for long-lasting democracy and reflected on the success of Operation London Bridge and the seamless delivery of Her Majesty's Queen Elizabeth II's funeral. He acknowledged the remarkable example it set for global collaboration and how continued collaboration would be key for success.
Sharing unique insights into the collective efforts behind Operation London Bridge, Matt Twist. Assistant Commissioner, Counter Terror Police UK spoke about the breadth of the operation from the integrated counter-terror package to the 'biggest ever deployment' of law enforcement and supporting government agencies. He also revealed the Counter UAV response investigated 80 flights – four of which subsequently face prosecution for their intended actions.
Among the other topics to take the spotlight in the Summit, the 'chronic and corrosive threat' of serious and organised crime (SOC) was addressed by Matt Horne, Deputy Director of Investigations at the National Crime Agency. He detailed the alarming scale and complexity of the evolving threat, costing more than £37 billion every year. He revealed that SOC rates were climbing, exceeding pre-pandemic levels with many offenders increasingly taking advantage of technology, which saw a huge uprise in adoption over the course of the pandemic. Describing it as a 'technological arms race with criminals', he stressed the importance of updating legislation, collaborating with industry and academia, and adopting 'innovative protection and protective measures'.
One of the other topics dominating the agenda was the pending Protect Duty legislation. Among the speakers joining to discuss this monumental legislation was Shaun Hipgrave Director Protect and Prepare – Homeland Security Group (HSG), UK Government Home Office. He reminded attendees that terrorism doesn't abide by conventional boundaries and stressed the importance of an adaptable, whole community approach. He reflected on the progress made to date on the Protect Duty legislation, citing it as a "once in a generation opportunity" and suggested that a change of culture was required for security precautions to be normalised.
Over in the International Security Conference a series of sessions examined the pending Protect Duty. Adam Thomson, Head of NaCTSO - National Counter Terrorism Security Office revealed how the Publicly Accessible Locations (PALS) programme and policing response was designed to make the public safer from terrorist attacks. He ran through ideas for a future operating model, indicating which processes will be used to tackle the growing diversification of terrorist attacks.
Meanwhile, Julian Platt, Deputy National Coordinator for Protect & Prepare - Counter Terrorism Policing provided a snapshot of Protect and Prepare – how it is changing and what organisations need to be aware of. He stressed the importance of bringing like-minded individuals together and encouraged attendees to visit ProtectUK, an information sharing platform designed to make the UK the safest place to live and work for all its citizens. The platform, launched in 2022, is a new central hub for counter terrorism and security advice. It is designed to help business owners, security professionals and members of the public to become part of the community, gaining access to the latest news and online courses that will enable everyone to be better prepared.
The conference also played host to Lina Kolesnikova, Security Expert, Institute of Civil Protection and Emergency Management (ICPEM) who reflected on the heavy-handed police tactics in the lead up to the Champions League Final in May 2022. She highlighted the litany of poor conditions that contributed to the chaotic scenes outside the Stade de France, Saint Denis from negligent crowd control, communication and technical errors, along with an excessive use of police force. More than 400 cases of criminal attacks were reported, continuing onto public transport after the match. She explained how spectators were viewed as a threat to the security of the country, rather than welcomed, which subsequently created a blame game that was levelled squarely at supporters.
In one of many panel sessions taking place over the course of the two day event, five industry experts came together to explore the impact of diversity on the provision of a secure environment, including Satia Rai, Director of Equality, Diversity and Inclusion – IPSA; Rick Mounfield, Director - Optimal Risk Group; Seetan Varsani, Director of Major Accounts and Strategic Development - Corps Security UK Ltd; Anna-Liisa Tampuu, Co-Chair of the Inclusive Security Special Interest Group - The Security Institute; and Chris Middleton, Security Director - ABM UK. Together the panel agreed that it's only when there are role models in the industry that stand for equality and diversity, that significant change will happen. They encouraged business owners to overcome their fear of political correctness and tackle the issues, encouraging conversation to increase equality and diversity in the workplace. Here, it was stressed that a two-way discussion that is consultive and constructive was key, with the ultimate objective to give people, who previously didn't have a voice, a chance to be heard.
Meanwhile, the International Risk & Resilience Conference welcomed influential industry leaders who came together to offer attendees actionable insights to survive a crisis and rebuild. Among them, Mike Croll, Security Consultant spoke about the risk of terrorism in the UK and the impact of the proposed Protect legislation. He highlighted that the average person was 60 times more likely to be a lottery millionaire than die from a terrorist attack and that the perceptions and media agenda has been a major contributor to the outcry of fear. He discussed the practical challenges of implementing the Protect Duty, which is anticipated to cost more than £825 million a year on inspections alone.
Attendees at International Security Expo also benefited from its co-location with the industry's newest cybersecurity event: International Cyber Expo. Bringing together cybersecurity veterans and newcomers, its debut as a stand-alone event saw exhibitors welcome the crowds as they searched for the latest cutting-edge technologies. From CISO roundtables, informative talks and immersive demonstrations, the event served as the ideal networking hub for everyone from government officials and entrepreneurs, to venture capitalists and software developers to learn about the latest cyber security learnings.
Speaking about the 2022 International Security Expo, Rachael Shattock, Event Director, said: "It has been a monumental two days at Olympia, London welcoming a host of leading security professionals as they do business, network and source the products and solutions to keep people and businesses safe. We were delighted to welcome Tom Tugendhat MP in his first UK trade appearance to meet attendees and gain insights into this wonderfully diverse and innovative industry. Our thanks go to all the participating Government departments and agencies, exhibiting companies, Advisory Council members and of course, our visitors. It's wonderful to see the industry come together to network, source the latest technologies, and learn from such inspiring minds. We can't wait to return in 2023 to do it all again."
International Security Expo returns to Olympia, London from 26-27 September 2023.