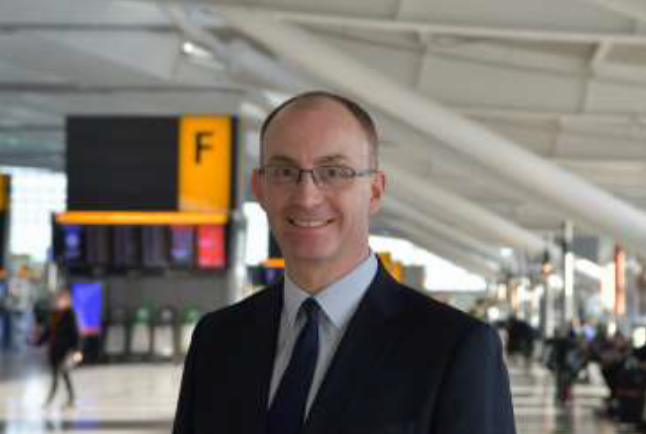 Jonathan Coen
Security Director
,
Heathrow
Jonathan has over twenty years of professional experience in UK airports' leadership in a variety of roles including Security Director, Commercial Director, Customer Relations & Service Director, Retail & Marketing Director, Baggage Programme Director and wider leadership roles covering category management, passenger experience and strategy.

Jonathan joined British Airways Authority (BAA) and Heathrow in January 1998 as Retail Operations Manager at Gatwick Airport and in 2001 he moved to Stansted Airport to deliver the Commercial portfolio for the airport's extension. Between 2003 – 2009 he held various Group BAA Commercial positions overseeing
wider category negotiations and the strategic space management of seven UK airports.

Jonathan was appointed to the key position of Security Director at Heathrow in March 2019. As Security Director, Jonathan is responsible to deliver the world's best airport security experience through exceptional performance in safety, protection and service. He leads on Heathrow's Security relationships with Regulators, Law enforcement, Airlines, Industry and the Security passenger experience.

Prior to March 2019, Jonathan was Heathrow's Customer Relations and Service Director. In this role he was responsible for the overall Passenger journey building and activating Heathrow's service proposition for passengers and Airline partners and led on Heathrow's business relationships with Airlines and for enabling
an environment for seamless operation performance and business growth. As Commercial Planning Director, he was responsible for developing future revenue opportunities. In 2013, Jonathan moved to the Heathrow Airport Development Team as Baggage Programme Director responsible for securing investments and the delivery of Terminal 3's Integrated Baggage Project and he returned to Heathrow's Commercial team in 2014 as Retail and Marketing Director before becoming Heathrow's Commercial Director leading on re-defining Heathrow's brand and marketing proposition to underpin passenger experience and passenger growth.

Jonathan holds a Postgraduate Degree in Management Studies (DMS) from Staffordshire University.