06 Oct 2023
Record numbers flock to International Security Expo 2023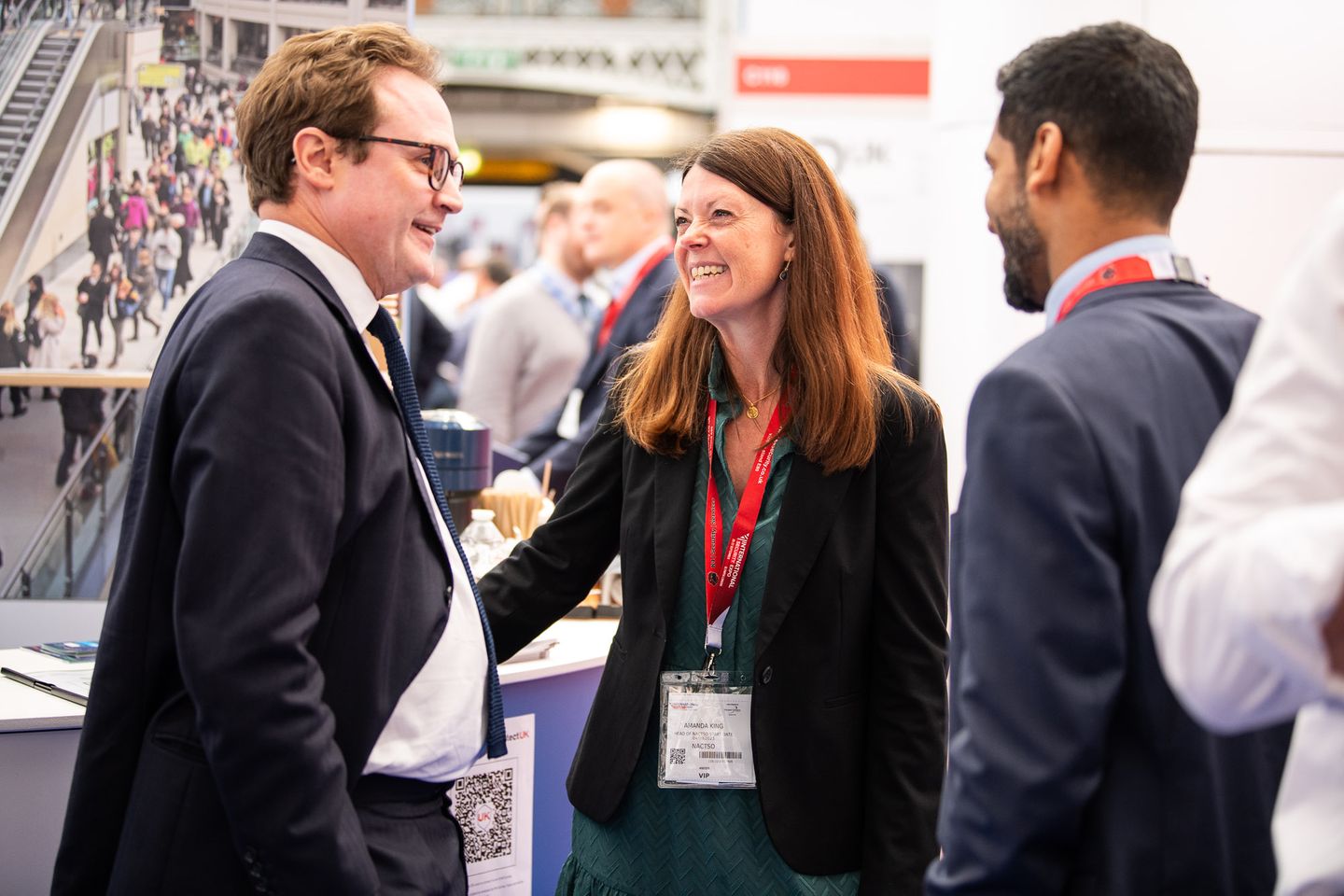 A record number of security professionals attended International Security Expo and co-located International Cyber Expo at London's Olympia on 26-27 September.
9,011 security professionals from more than 70 countries visited International Security Expo 2023, creating a buzz throughout the Grand Hall at Olympia London, with packed theatres and busy exhibitor stands showcasing the latest technological innovations designed to protect people, businesses, Critical National Infrastructure and nations.
With more than 300 security brands demonstrating thousands of the industry's newest products and solutions, attendees were afforded an unmissable opportunity for in-person demonstrations, helping them to understand how emerging products and solutions can meet their current and future challenges.
International Security Expo is the only publicly accessible security event where attendees can meet with and hear from the wide-ranging UK Government departments and agencies responsible for national security. For the second year running, delegates benefited from a keynote presentation from UK Minister of State for Security, the Rt Hon Tom Tugendhat MP, where he discussed the UK's counter-terrorism strategy, the security challenges posed by the Ukrainian conflict and expanded further on the Government's security priorities.
Unmissable content & cutting edge insights
The event offered an unparalleled line-up of educational content, which included presentations delivered as part of the Global Counter Terror & Serious and Organised Crime Summit, alongside the International Security Conference and the International Risk and Resilience Conference.
It was standing room only for all of these top-level conference programmes, which witnessed sessions on the draft version of the recent Terrorism (Protection of Premises) Bill – commonly known as Martyn's Law – now making its way through the Houses of Parliament. Delegates heard from the most senior figures involved in piecing together the proposed legislation, alongside those who will be implementing and enforcing its contents.
The Global Counter Terror & Serious and Organised Crime Summit offered talks delivered by representatives from the National Counter Terrorism Security Office, the Office for Homeland Security and UK Defence and Security Exports (itself part of the Department for Business and Trade), alongside the likes of The Global Initiative Against Transnational Organized Crime and Microsoft.
The programme included an extensive look at how we are addressing and can better combat terrorism, plus an in-depth look at key serious and organised crime issues. The new head of the Home Office's Joint Security and Resilience Centre (JSaRC), Abu Ahmed, used this opportunity to update the industry on their priorities, whilst day one ended with a panel session on the realities of terror featuring victims of terror discussing their experiences and the impacts it has had on their lives, as well as that of their families and friends.
This theme continued in the International Security Conference, with a panel session on the aforementioned Martyn's Law with campaigners Figen Murray OBE and Nick Aldworth, who were joined by Debbie Bartlett, Deputy Director Protect and Prepare at the Home Office, Tracy Reinhold from Everbridge and Barrie Millett from Mitie. The Conference also played host to a seminar on the Impact of Inclusion and Belonging in the Security Industry, chaired by Satia Rai from IPSA and Securitas UK, featuring Chris Hutchinson, the mother of security operative Gaby Hutchinson, who sadly passed away aged 23 following the Brixton Academy crush in December 2022.
Elsewhere on the International Security Conference (sponsored by CSL and Everbridge), issues around aviation and port security were addressed by members of the UK Civil Aviation Authority, SAFEsky Inc. and INTERPORTPOLICE, the theatre was packed for Paul Fullwood, Director of Inspections & Enforcement at the Security Industry Authority (SIA), who addressed professionalising the security industry, whilst Dr Aoife Hunt from Movement Strategies discussed the practical implications for control rooms planning their response to terrorist attacks.
On the International Risk & Resilience Conference, with a programme put together in partnership with Resilience First, a number of panels sought to tackle the many prominent issues around risk and resilience. The opening address for this Conference was provided by the Rt Hon Tobias Ellwood MP, where he discussed the importance of preparedness and resilience in our troubled and complex times, with panels covering issues such as: making ESG 'R' is a new strategic priority, complex risks in an uncertain world, delivering a whole of society approach to national resilience, how secure is your digital backdoor and getting ready for the next big shock. Speakers came from the Cabinet Office, Santander, Holcim, National Grid, Deloitte, Lloyd's Register Foundation, CBRE, Network Rail and more.
The place for product launches and demonstrations
Demonstrating the event's invaluable role in facilitating new product launches, many exhibitors took the opportunity to unveil their latest innovations, sharing all-new technologies and refreshed solutions with a packed audience of vetted, international buyers.
Launches included Apstec's next generation screening technology Human Security Scanner, which is a smart solution that detects explosives, weapons, pyrotechnics, narcotics and cash on people and in bags to provide better capability on a more cost-effective basis. It increases the speed, agility and effectiveness of the scanning process, while in parallel dramatically improving the overall screening experience.
LINEV Systems UK used the event to showcase its CLEARPASS C.I. partial body scanner for the first time, which is described as the perfect solution for prisons and borders as well as many other areas where people scanning is needed to check for stuffed or swallowed contraband, boasting rapid image acquisition and scan times.
Upon arriving at Olympia London, visitors saw hostile vehicle mitigation barriers outside the entrance provided by SafeCrowds, had to pass their bags through Rapiscan's Orion 920CX x-ray scanner, and saw Pimloc's Secure Redact in action – a world-leading SaaS solution that automatically blurs faces, objects, number plates and other personal or sensitive data in video.
Live demonstrations throughout the event
International Security Expo offered a fully interactive experience for attendees, which included scenario-based counter-terrorism demonstrations delivered by Counter-EO UK and CBRN-UK. The Counter-Explosive Ordnance team and a bomb disposal operator demonstrated specialist clearance of an Improvised Explosive Device (IED), whilst a specialist CBRN operator ran a demonstration using cutting-edge chemical, biological and radiological detection apparatus.
The British Transport Police Special Response Unit demonstrated specialist equipment capable of detecting and assessing powders, liquids and gases, in addition to the X-ray of suspicious packages. Whilst on their stand in the Government Zone, visitors were able to meet the Armed Policing Unit and see their firearms and other less lethal devices first hand.
The Perimeter Protection Zone featured the latest perimeter security products and solutions, from fencing, bollards and barriers through to intruder detection, access control, video surveillance and more. Many of these were put through their paces by a team of forced entry experts in the LPCB Live Testing Lab, in front of a packed audience.
In addition, Everbridge ran interactive desktop exercises on their stand on how to protect employees, assets and the public in a critical incident at multiple points across both days. Toshiba Infrastructure Systems & Solutions Corporation provided presentations and demonstrations on their stand on how they protect customers and the public from malicious drones with their C-UAS Solution and achieve global safety in the sky.
Future of Cyber Security
The world's of physical and cyber security converged across these two-days at Olympia London, as in just its second year, co-located International Cyber Expo saw almost 6,500 visitors come through the doors, 35% more than last year.
Bigger, bolder and more exciting than before, visitors immersed themselves in the latest innovations and cutting-edge technologies that are essential to protecting our digital world. The exhibition floor was packed with many leading global cyber security solution providers, whilst the Global Cyber Summit saw a range of noted cyber experts providing essential updates on this critical and rapidly-changing area.
Alongside a jam-packed conference programme, the event also played host to the Metropolitan Police Cyber Escape Room and Grab the Mic: Women in Cyber, the latter being a 2.5-hour networking event aimed at inspiring, educating and connecting the incredible women (and their allies) operating within the cyber security industry. Two award-winning demonstrations also returned – the CrisisCast real-time cyber-attack demonstrator and Cyber Griffin's NCSC-certified table top exercise. These live demonstrators are an essential way of bringing the cyber threat to life for attendees at the event.
Record numbers of attendees from both events joined forces with exhibitors at the end of the first day for free networking drinks receptions, with music from the Cyber House Party in International Cyber Expo and The Shadow Monkeys in International Security Expo.
Speaking about International Security Expo 2023, Group Event Director Rachael Shattock said:
"It was fantastic to see Olympia packed for both days. We have received phenomenal feedback from our exhibitors, in particular about the quality of visitors in attendance. This extends to the VIP programme, which hosted some of the country's most influential security leaders, alongside our International Delegations Programme which saw senior security buyers from around the world coming to the event to source the latest products and solutions. Many exhibitors have already confirmed their stands for 2024 and we are working on exciting plans for next year. Our thanks go to all the participating Government departments and agencies, exhibiting companies, Advisory Council members and of course, our visitors. We cannot wait to see you next year!"
International Security Expo and International Cyber Expo return to London's Olympia on 24 - 25 September 2024. For more information visit: https://www.internationalsecurityexpo.com