27 Sep 2021
Takeda, dentsu and Finastra Awarded Designation as Best in Enterprise Resilience™ Leaders as Part of Everbridge's Global Critical Event Management (CEM) Certification Program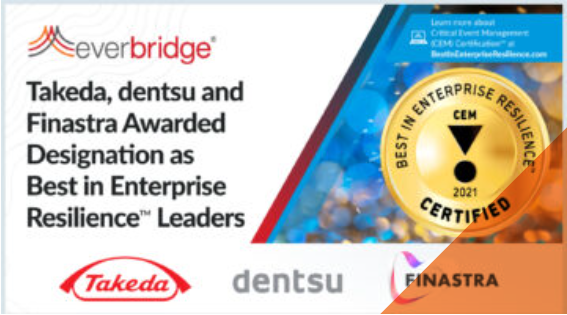 BURLINGTON, Mass., September 27, 2021 — Everbridge, Inc. (NASDAQ: EVBG) today announced that global industry leaders Takeda Pharmaceutical Company Limited ("Takeda"), dentsu international and Finastra are among the elite multi-national businesses to achieve the prestigious Best in Enterprise Resilience™ designation based on their performance among peer companies in meeting the rigorous formalized standards to becoming Critical Event Management (CEM) Certified™.
The Everbridge Critical Event Management (CEM) Certification™ Program provides a unique standards framework for assessing an organization's overall enterprise resilience, leveraging 20 years of professional services engagements across tens of thousands of projects in over 150 countries and facilitating tens of billions of critical interactions. Everbridge's proprietary certification process offers organizations an end-to-end methodology for evaluating and benchmarking resilience when confronted with critical events. Businesses who achieve CEM CertificationTM status follow proven industry best practices to keeping their people safe and organizations running, faster.
Takeda, dentsu and Finastra join financial services giants Discover and Goldman Sachs, mass media and entertainment conglomerate NBCUniversal, multi-national chemical corporation Dow, and global pharmaceutical leader Alexion in demonstrating their transformative, technology- and data-driven preparedness and commitment to fulfilling Duty of Care, driving operational improvements, and enabling and protecting revenue streams in the face of critical events.
"The ability to demonstrate business resilience is congruent with the rise of ESG as an investment metric or screening factor, slotting naturally into governance initiatives," said Connor Taylor, Technology Analyst in the ESG & Sustainability practice at Verdantix. "Everbridge has introduced a new, compelling international framework benchmarking the full lifecycle of business preparedness, with a focus on diverse events including IT incidents, supply chain continuity, and physical risk."
Launched in July 2021, Everbridge's proprietary CEM Standards Framework™ and related certification process offer organizations the industry's first end-to-end methodology for evaluating and benchmarking enterprise resilience preparedness. Categories for potential certification include keeping people safe, maintaining business continuity and operational uptime, optimizing supply chain and supply routes, advancing the interconnectivity, efficiency and safety of smart buildings and the internet of things (IoT), and safeguarding an organization's brand and reputation through resilient and responsive IT systems in an increasingly virtual world.
"This risk management industry recognition underscore's Takeda's strategy and commitment to crisis readiness and business resilience through the power of data and digital analytics, risk intelligence, visualization and aggregate risk insights as highlighted by this risk management industry recognition," said Whit Chaiyabhat, Vice President and Head of Global Security & Crisis Management at Takeda. "Takeda is a top global biopharmaceutical company with a strong values system, and the multi-year global security and crisis resilience vision is directly aligned with our work to serve our patients. This enterprise resilience designation further validates this commitment in the face of numerous worldwide operational risks."
"At dentsu, the wellbeing and safety of our people is of the utmost importance. We also recognise that organizational resilience is vital to sustainable growth," said Adam Barrett, Head of Resilience, dentsu international. "Recognition as a Best in Enterprise Resilience company reinforces to our colleagues, clients and partners that dentsu is deploying industry good practice and taking a forward-thinking approach to resilience."
"This certification is testament to the strong risk management culture we have built by focusing on our mission to enable the organization to instinctively utilize risk management in its day-to-day decision making," said Elona Ruka-Wright, SVP, Chief Risk Officer at Finastra. "Risk is inherent in every aspect of our business and its impact ranges widely. We are taking the necessary steps for resiliency and have proactive plans in place for unexpected events that protect our global operations, as well as our employees and customers. This certification reflects those relentless efforts."
Led by the Everbridge Professional Services team, the assessment of these categories leverages the culmination of over 500,000 hours of consultation to several thousands of the world's largest companies and institutions, helping to keep people safe in over 1,500 municipalities, counties, cities, states and countries in every major region of the world including Europe, Asia, Oceania, the Middle East, Africa, and the Americas. Any organization (including non-Everbridge customers) can participate in the certification assessment process, which typically takes place over a three- to five-week period.
"Everbridge congratulates Takeda, dentsu and Finastra for demonstrating the kind of enterprise resilience leadership that serves as a model for other forward-thinking companies," said Dr. John Maeda, Chief Experience Officer at Everbridge. "With critical events rising across the world, enterprise resilience represents a way to thrive amid uncertain times, and our methodology provides the industry's first standardized way to measure and foster it for future business continuity."
Becoming CEM Certified™ provides organizations with the following benefits:
Benchmark performance against industry peers, including areas of strength and opportunities for improvement
Improve resilience planning, budgeting and resource allocation
Drive strong return on investment through targeted initiatives
Demonstrate a commitment to enterprise resilience and duty of care, instilling trust among employees, partners, customers, and investors
Recruit and retain top talent
Formalize recognition at the organizational level for global leadership in enterprise resilience
Reward individual achievement via employee certifications on professional profiles
CEM Certification provides an organization's employees, customers, and stakeholders with the confidence their company stands at the forefront of digital transformation and operates from a position of enterprise-wide resilience. Upon achieving Best in Enterprise Resilience™ status, a certification medallion signals to vendors, partners, and customers the validation of a decidedly 'resilient' organization.
To learn more about Everbridge's CEM Certification Program or apply, please visit: https://bestinenterpriseresilience.com/
About Everbridge
Everbridge, Inc. (NASDAQ: EVBG) is a global software company that provides enterprise software applications that automate and accelerate organizations' operational response to critical events in order to Keep People Safe and Organizations Running™. During public safety threats such as active shooter situations, terrorist attacks or severe weather conditions, as well as critical business events including IT outages, cyber-attacks or other incidents such as product recalls or supply-chain interruptions, over 5,800 global customers rely on the Company's Critical Event Management Platform to quickly and reliably aggregate and assess threat data, locate people at risk and responders able to assist, automate the execution of pre-defined communications processes through the secure delivery to over 100 different communication modalities, and track progress on executing response plans. Everbridge serves 8 of the 10 largest U.S. cities, 9 of the 10 largest U.S.-based investment banks, 47 of the 50 busiest North American airports, 9 of the 10 largest global consulting firms, 8 of the 10 largest global automakers, 9 of the 10 largest U.S.-based health care providers, and 7 of the 10 largest technology companies in the world. Everbridge is based in Boston with additional offices in 25 cities around the globe. For more information visit www.everbridge.com