29 Sep 2021
Everbridge Expands Industry-Leading Executive Protection Solution as Organizations Seek Enhanced Security for Traveling Employees, Government Dignitaries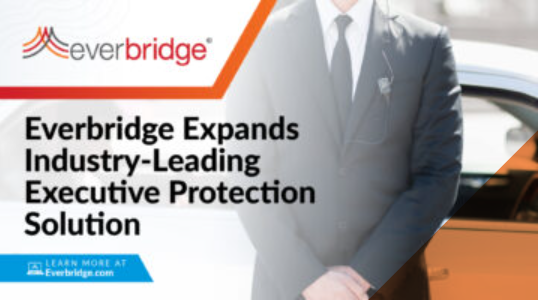 BURLINGTON, Mass., September 7, 2021 — Everbridge, Inc. (NASDAQ: EVBG) today announced the growing adoption of its Critical Event Management (CEM) People & Life Safety solution, which helps organizations protect their senior leaders and all employees from a wide range of cyber and physical threats while at home, in the office, or traveling. The Everbridge platform allows business, healthcare, and government organizations to assess and identify events, locate key personnel and affected assets, standardize actions to reduce the mean time to respond, and analyze response performance – all helping to keep employees safe and operations running.
As reported by the Wall Street Journal, senior executives and staff alike face increased physical threats amid the COVID-19 pandemic, prompting many security teams to seek out more effective ways to protect employees. In addition to increased physical security incidents, a recent study also confirms that ransomware against organizations increased 62% since 2019.
To address these and other threats, the Everbridge CEM for People & Life Safety use case combines best-in-class risk intelligence with solutions for mobile employees, enabling companies' Global Security Operations Centers (GSOC) to rapidly communicate with their executive protection teams and staff anywhere in the world in anticipation of, or during, an emergency. In addition to helping organizations safeguard their employees, Everbridge also remains the top choice among many leading security protection firms to help safeguard dignitaries, athletes, performers, and other VIPs.
"During my time leading national intelligence with the FBI, I have seen first-hand how digital and physical crises impact individuals and organizations," said Tracy Reinhold, Everbridge Chief Security Officer, and former head of the FBI's Intelligence Division. "Today, we are experiencing a sea change in the security industry through the use of technology that digitally transforms how organizations use risk intelligence for the protection of employees, government officials, dignitaries, or for any individual in harm's way. Everbridge's People & Life Safety Critical Event Management solution empowers organizations to fulfill their duty of care obligations through real-time risk assessments and hyper-local data leveraged to quickly automate the response to all types of critical events."
Everbridge CEM for People & Life Safety represents the most flexible, robust, and scalable software solution for duty of care to keep people safe anywhere in the world. Everbridge provides a critical part of an organization's Future of Work strategy as businesses shift to remote work and reimagine physical workspaces.
FORTUNE 500™ companies and other global industry leaders use Everbridge to proactively monitor and analyze domestic or worldwide incidents and events in real time, dramatically increasing the ability to respond to risks that threaten their people and organizations.
According to The Forrester Tech Tide™: Digital Physical Security And Employee Safety, Q2 2020, "In a world of increasing physical threats ranging from extreme weather to workplace violence, firms are making the safety of their employees a top priority. Today's workforce is highly mobile and distributed globally. This demands centralized communication solutions that can communicate with all affected employees and manage incident response to various critical events, ranging from geopolitical incidents to weather disruptions. Emergency command center solutions provide Security & Risk professionals with a centralized mechanism to track and respond to security events and help keep employees connected and safe. These solutions drastically improve response time and overall reaction to natural disasters and other critical safety events, reducing losses and promoting customer and employee safety."
Everbridge featured some of the leading experts in the world on public safety technologies at its recent global Road to Recovery leadership symposiums. The topic of public safety best practices was addressed heavily during the sessions which featured keynote addresses by Presidents Bill Clinton and George W. Bush, former U.S. Secretary of State Dr. Madeleine K. Albright, Virgin Group Founder Sir Richard Branson, representatives from Major League Baseball (MLB) and other sports leaders, as well as government officials, city mayors, and emergency management professionals from around the world.
About Everbridge
Everbridge, Inc. (NASDAQ: EVBG) is a global software company that provides enterprise software applications that automate and accelerate organizations' operational response to critical events in order to Keep People Safe and Organizations Running™. During public safety threats such as active shooter situations, terrorist attacks or severe weather conditions, as well as critical business events including IT outages, cyber-attacks or other incidents such as product recalls or supply-chain interruptions, over 5,800 global customers rely on the Company's Critical Event Management Platform to quickly and reliably aggregate and assess threat data, locate people at risk and responders able to assist, automate the execution of pre-defined communications processes through the secure delivery to over 100 different communication modalities, and track progress on executing response plans. Everbridge serves 8 of the 10 largest U.S. cities, 9 of the 10 largest U.S.-based investment banks, 47 of the 50 busiest North American airports, 9 of the 10 largest global consulting firms, 8 of the 10 largest global automakers, 9 of the 10 largest U.S.-based health care providers, and 7 of the 10 largest technology companies in the world. Everbridge is based in Boston with additional offices in 25 cities around the globe. For more information visit www.everbridge.com