28 Mar 2021
Travel Risk Management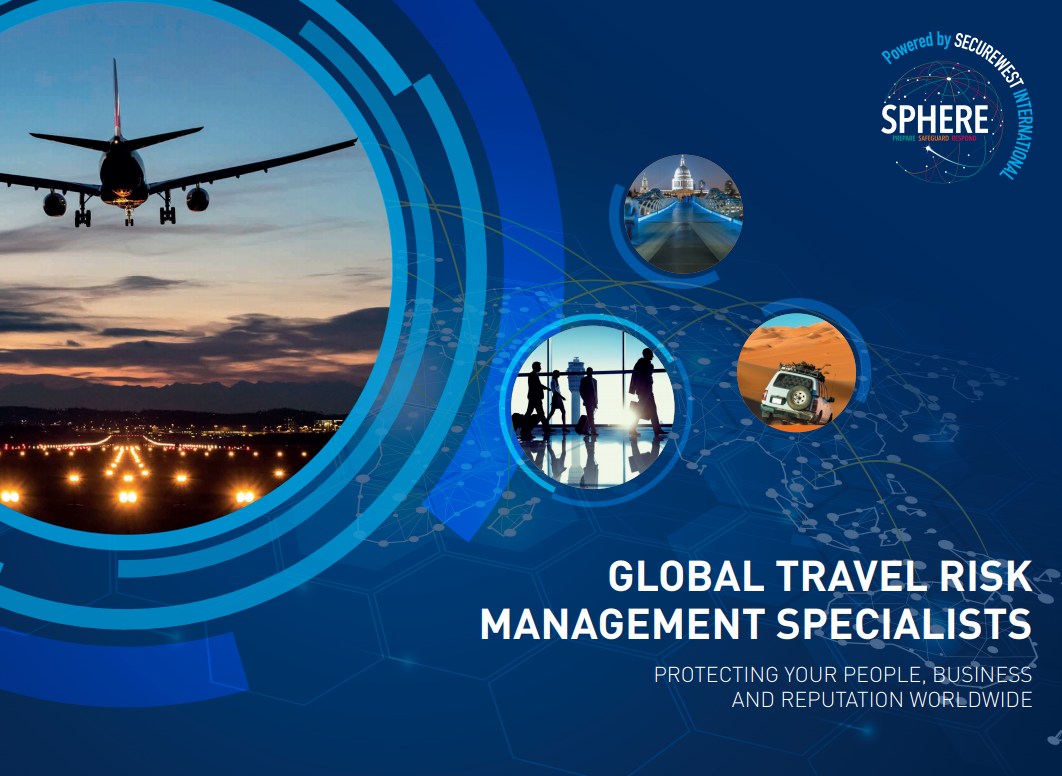 Using our experience and specialist knowledge, supported by our innovative technology platform, SPHERE, our services can help you fulfil your duty-of-care compliance and enhance the security and safety of your people.
No two organisations are the same, so from initial guidance to a fully outsourced risk management solution, Sphere's range of services can be configured to meet your requirements and support your existing framework.
Prepare
Understanding the risks faced by your organisation and travellers is a key step in preventing and mitigating risk.
Planning and Advisory
Specialised, consultative services to assist in the development and review of travel risk management and safety plans, policies and processes.
Threat and Risk Identification
Access to in-depth threat and risk assessments with specific insight on crime, conflict, terrorism, infrastructure, natural disaster, health and political/social matters and 24/7 emerging risk alerts.
Training Solutions
Bespoke training solutions delivered online, at your premises or offsite. Aimed at groups of travellers, high risk individuals or persons responsible for booking travel.
Safeguard
Our services enable you to keep your travellers informed, supported and safeguarded and your assets protected.
SPHERE Travel Risk Platform
SPHERE is the innovative technology and travel risk solution which enables the seamless risk management of all aspects of international travel.
Intelligence
Live travel itinerary and real-time tracking offers the best possible live picture of the locations of your people and assets, whilst interactive mapping allows you to quickly assess incidents across the globe and to respond effectively to the risks faced.
24/7 Support
The Global Response Centre operates 24/7/365 providing support and advice anytime, wherever you are in the world.
In-Country Security and Journey Management
Ensure the safe movement of your personnel with our in-country meet-and-greet and journey management services. We can also carry out hotel and meeting venue assessments and offer a suite of personnel and asset protection in-country security services.
Respond
When things do go wrong, you need to be able to respond quickly and effectively to ensure an incident does not develop into a crisis.
24/7 Emergency Response
In the case of an incident, our experienced emergency responders will rapidly assist, managing and supporting your travellers following your agreed incident response protocols.
One Point of Contact
We can link to other providers such as an insurance or healthcare company or offer full support on incident management, so you only have a single point of contact.
Crisis Management
The Securewest crisis management team will be on hand to offer expert guidance to support business continuity and help to mitigate reputational risk.
Evacuation Support
With security services in over 180 countries, we can manage the emergency security evacuation and extraction to ensure the safe arrival home of your personnel.