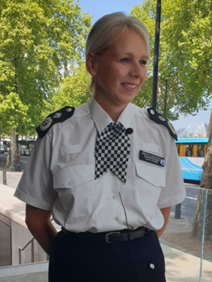 Lucy D'Orsi
Deputy Assistant Commissioner, Specialist Operations
,
Counter Terror Police UK
Lucy D'Orsi is a Deputy Assistant Commissioner in the Metropolitan Police, leading on Royalty & Specialist Protection, Parliamentary & Diplomatic Protection, Aviation Policing and Protective Security Operations.
Lucy joined the Met in 1992 and has broad experience of working in challenging policing environments including the Territorial Support Group, Counter Terrorism Policing and the Senior Public Order Command Team.
Lucy was Borough Commander in Hammersmith & Fulham before becoming a Commander, responsible for 9 East London boroughs. She was overall Public Order Commander for the Chinese State Visit in 2015 before being made Deputy Assistant Commissioner in 2016.
She recently led policing operations for London's New Year's Eve, the two State Visits of President Trump and the NATO Summit. Lucy is also the UK lead for Drones, Taser and 'Less Lethal Weapons'.
In her role as Senior National Co-ordinator for Protect and Prepare, Lucy is passionate about amplifying protective security through collaboration with the private sector and the public, as shown in the wide-reaching ACT (Action Counters Terrorism) and 'Run, Hide, Tell' campaigns for which she was lead.
Lucy is president of the Metropolitan Women Police Association and Chair of the Association of Senior Women Officers. She was also one of the lead officers
co-ordinating the celebrations for the Met's Centenary of women officers in 2019.