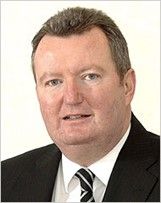 Bob Quick
Founder Director
,
Global Secure Accreditation Ltd 
Robert (Bob) Quick QPM MBA (Exon) Executive Director and Founder of Global Secure Accreditation Ltd (GSA)
Bob Quick founded GSA in 2018 after conducting extensive research on security and safety in the travel and hotel sectors.
He enjoyed a successful career as a police officer (1978 – 2009) rising to one of the UK's most senior policing and national security positions. He established a reputation as a moderniser and key strategic thinker in policing, influencing the police service at the national level and leading key workforce and business reforms. In 2008 he was appointed to the post of Assistant Commissioner 'Specialist Operations' (ACSO) at New Scotland Yard, where he was responsible for Counter-Terrorism nationally and the operationalisation of a new National Police Counter-Terrorism Network comprising over 3500 personnel based in 11 operational centres. (Budget £750M Met Police / £1bn Counter Terrorism Policing)
In addition he was responsible for the protection of the British Royal Family, the UK Prime Minister and Cabinet, the foreign diplomatic community in the UK and visiting heads of State. Between 2004 and 2008 he was Chief Constable of Surrey Police and was commander of the Metropolitan Police Service (London) Anti-Corruption Command 1999 - 2001. Bob has delivered a range of security capacity building projects overseas. Throughout his police career Bob worked as a detective at every level in the theatres of counter terrorism, counter corruption, drug trafficking and organised crime. Bob has an MBA and a Post Graduate Diploma in Applied Criminology from Cambridge University and is a graduate of the UK Government Cabinet Office 'Top Managers' Programme (2004) and the Police Staff College Strategic Command Course (2001).
In 2010 Bob established Bluelight Global Solutions Ltd (BGS), a successful security solutions business which supports both the government and corporate sectors delivering improved security and specialist security training. BGS has worked with government departments, police forces and commercial organisations in many countries around the world and has established a strong reputation in supporting 'safe city' programmes. BGS also provides expert research and investigations services to the legal sector and corporate clients involved in litigation or arbitration proceedings.
In 2018 Bob established Global Secure Accreditation Ltd (GSA) in response to increased risk and threats to the hotel sector. GSA is the world's first truly independent security and safety assessment system for hotels and other serviced accommodation. This has been created in partnership with SFJ Awards (SFJ), a UK Government (Ofqual) approved standards awarding organisation, who independently oversee and regulate the standards and assessment process to ensure the integrity of the accreditation process.