28 Apr 2021
The New Potential of Facial Recognition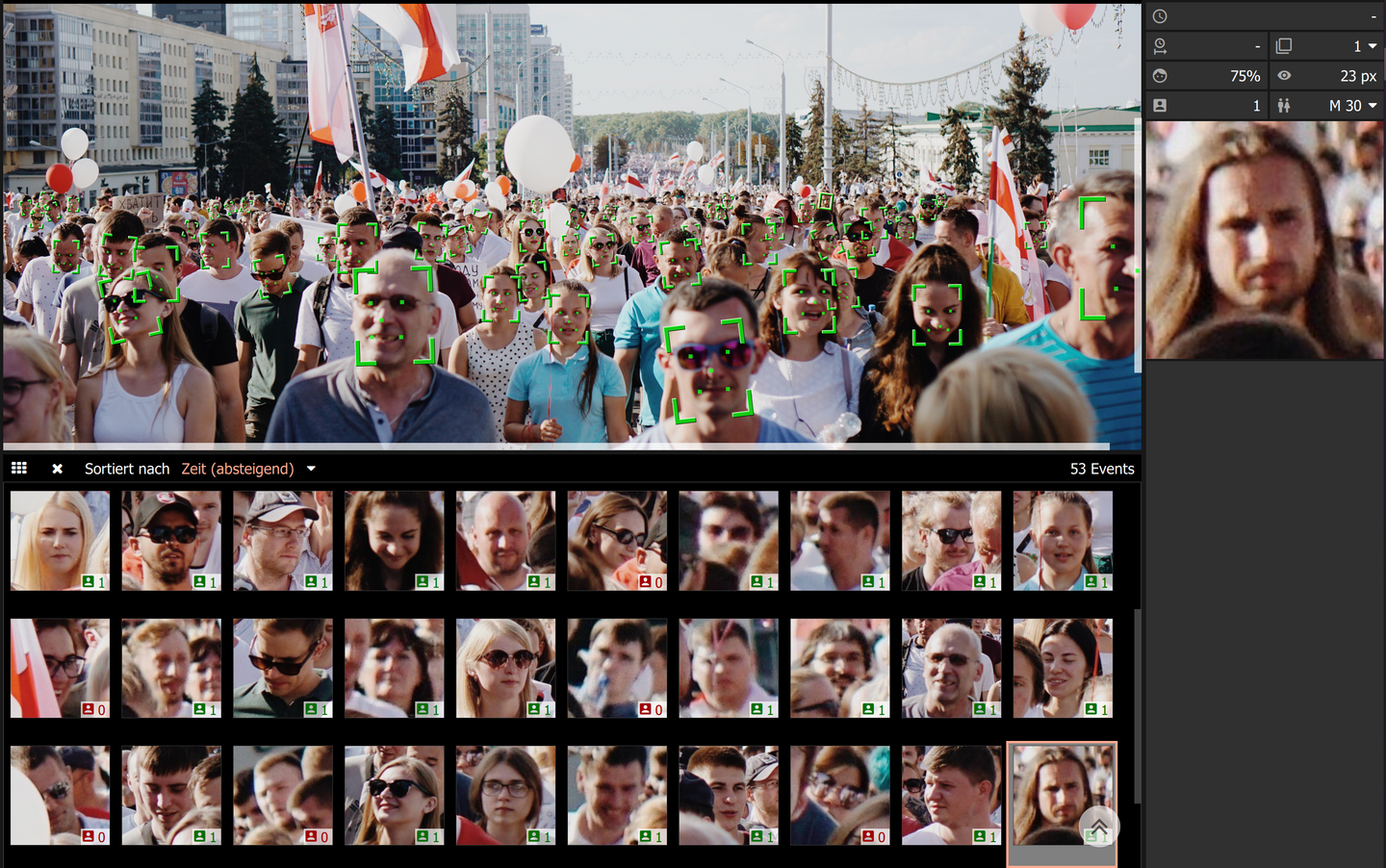 The number of cameras in our everyday lives is increasing and with it the possibilities for law enforcement and security to find suspicious persons. However, this increasing amount is becoming harder and harder to handle. Finding and identifying a person with the help of facial recognition systems is a big potential but massive amounts of data and poor image quality pose a mammoth challenge.
With Videmo360 there is now software that supports humans exactly where they reach their limits: Lots of video streams, small faces, large groups, and amounts of video data that would take a lot of time to view.
If the analysis is left to software the face recognition must work well and nothing -or better no one- is to be missed.
Usually, we are not talking about well-lit front recordings of a face, but rather pixelated video streams, possibly with distortions or recorded at night. To face this challenge, algorithms have to be very specialized and developed precisely for this case.
However, the best technology is of no use if no one can use it.
The user interface must be intuitive and preferably reflect the existing workflow. Videmo has adapted its software to the way law enforcement and security officers work. Based on joint projects within the police & security environment, the software has been built and continues to be developed so that the interface and algorithms meet the particular requirements.
What exactly can Videmo 360 do?
Usually, you differentiate between two application scenarios:
For live monitoring, identities are defined in advance by adding an image of the person of interest. As soon as this person appears on any camera channel, an alarm is triggered. This can be an audio, visual, or e-mail alarm. The "event" is saved with a timestamp and can be reviewed later. The data acquired this way can be exported, e.g. as a pdf file, for further processing. If you don't have a reference image, you can also search for characteristics such as gender, beard, glasses, mask, and others.
With the retrospective analysis, you can search through huge amounts of video data in a matter of seconds. The Videmo software also keeps your original folder structure, so you keep an overview of your files. Search selected files for identities, faces you find in a video, face attributes (age, gender, beard, etc.), vehicles, and luggage.
You then get a clear list of matches of which person appears when, where, and in which video without having to watch it.
All events, like faces, that appear in the material can be saved and exported. Identities can be created, refined, grouped, and searched for from videos.
There is an incredible amount of time that can be saved. When investigations around the riots at the G20 summit started, Videmo calculated that it would take 60 years to go through the video material manually. With Videmo's software, the investigation took two weeks.
Conclusion:
AI-supported facial recognition provides an excellent chance to master the growing amounts of data and the right system has great potential to make the work of authorities much easier and faster.
For more information, please visit the Videmo booth at International Security, stand F62, or ask Sabrina Wagner directly: wagner@videmo.de or +49 721 62710135
About Videmo: Videmo was founded in 2008 by professors at the Karlsruhe Institute of Technology, Germany. It has since specialized in video analysis software with AI technology, particularly facial recognition in uncooperative scenarios and mass data. Videmo continues to take part in research projects and getting feedback from end-users to always offer state-of-the-art technology while maintaining high usability.