31 Aug 2021
September Preview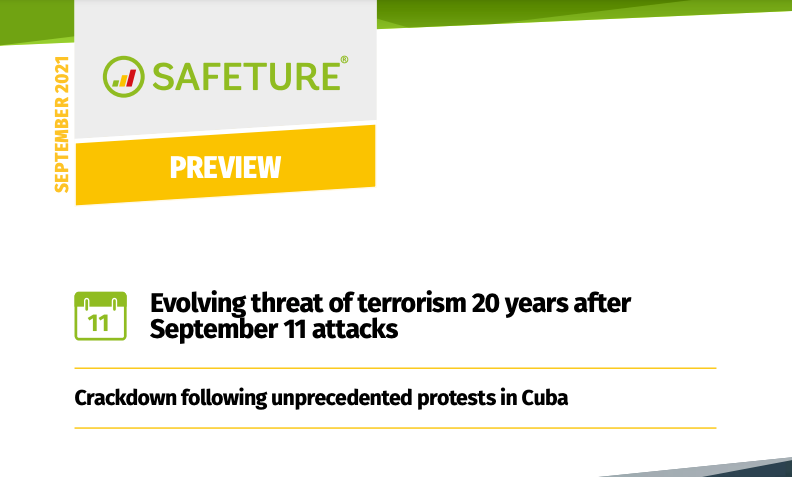 Evolving threat of terrorism 20 years after September 11 attacks
The United States will mark the 20th anniversary of the 9/11 terror attacks that till this day remains one of the most significant events in the history of the modern world. Commemorative events will be held at the attack sites in New York City, Washington D.C., and Pennsylvania as families of the victims and the U.S. as a nation come together to cherish the memories of those who lost their lives on a fateful day.
Crackdown following unprecedented protests in Cuba
Thousands of Cubans took to the streets on July 11, the island has not seen in decades in a show of force. Protesters decried a failing system, and long-simmering anger boiled over into large- scale protests in multiple major cities.
Taliban's "blitzkrieg" return to power in Afghanistan raises regional security concerns
A week-long lighting offensive across Afghanistan saw the Taliban capturing multiple provincial capitals and culminated in the seizure of Kabul on August 15.
Haiti delays planned September referendum amid natural calamities, pandemic, and political violence
Haiti was plunged into a crisis in early July following the assassination of President Jovenel Moïse at his residence in Port-au-Prince.
Deepening water crisis poses a long-term challenge for Iran
Since July, a water crisis in Khuzestan has revealed further cracks in Iran as the country experienced its driest conditions in 53 years.
Struggling Myanmar faces a multitude of problems amid junta rule
After a decade of civilian government in Myanmar, the military junta overthrew the thenruling National League for Democracy (NLD) on February 1 and took over the country.