11 Mar 2021
Astrophysics Awarded Prestigious Presidential "E" Award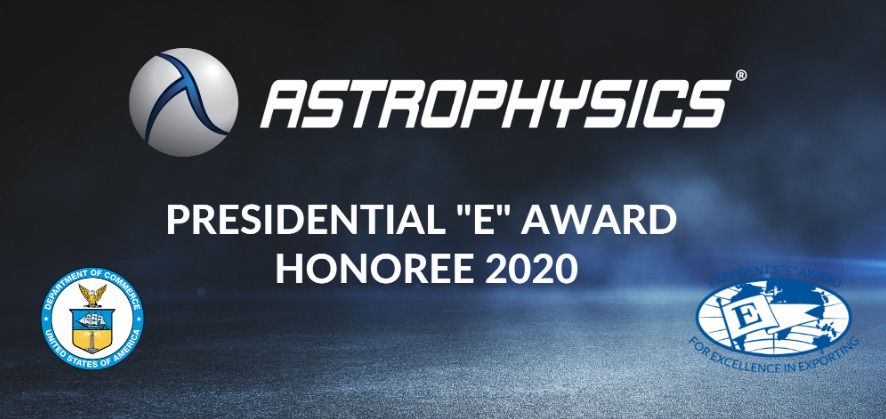 Excellence in Exporting
Astrophysics is honored to receive the prestigious Presidential "E" Award, granted by the United States Department of Commerce, the highest recognition any U.S. company can receive for excellence in the expansion of U.S. exports. We were only 1 of 39 companies across all industries in the U.S. to receive this accolade in 2020. Established by President John F. Kennedy as an executive order in 1961, the "E" Award is granted to organizations that demonstrate a significant contribution to U.S. export expansion that is measurable, innovative, sustainable, and has a wide-ranging impact.
Exemplifying U.S. productivity and expansion, Astrophysics is recognized for its continuous contribution to export growth. As a California-based world leader in x-ray security scanners, it is our mission to engineer a safer tomorrow. Designed and assembled in the USA, Astrophysics x-ray systems are made to the highest quality standards with over 35,000 products deployed in more than 150 countries at critical infrastructure, aviation and ports and borders sites worldwide. As an American company, we are grateful to partner with the U.S. Department of Commerce and look forward to further exporting U.S. products around the globe.
History of the "E" Award
During World War II, more than 4,000 "E Pennants" were presented to war plants in recognition for their positive impact on domestic production. They created a well known pendant displaying the big "E", which would later evolve into a badge of patriotism. In the early 1960's, President Kennedy revived the World War II "E" symbol of excellence to once again provide recognition to America's exporters.
Astrophysics superior imaging technology, relentless innovation, and commitment to customer service has made us the brand of choice for x-ray security.