Transforming Security Operations: TrackTik's Comprehensive Solution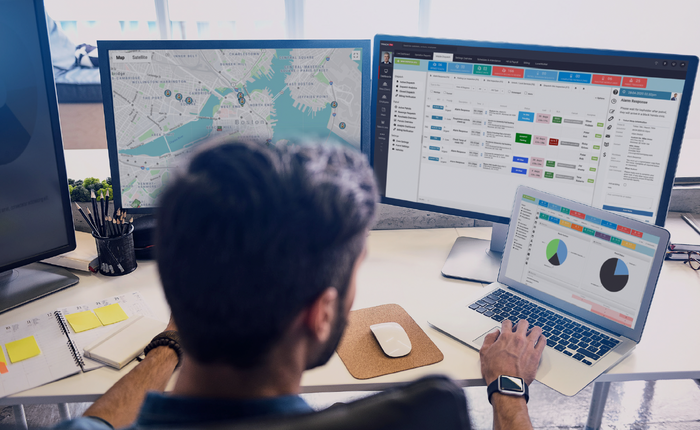 The transformative and all-encompassing TrackTik solution elevates security operations by equipping frontline workers with essential tools for seamless operational connectivity. The platform effortlessly combines three robust components: Guarding Suite, Back Office, and Mobile Suite. These elements work together seamlessly, boosting security and simplifying administrative tasks.
At the heart of the TrackTik platform is the Guarding Suite, which plays a pivotal role in elevating security operations efficiency. Security managers gain immediate access to team activity data through a real-time dashboard. Dynamic tracking – powered by GPS technology –ensures accountability by continuously monitoring live personnel locations. Customised incident reporting and analysis tools simplify the reporting process while providing valuable incident trend insights. Additionally, checkpoint tours effectively oversee vital areas, bolstering security and compliance while enhancing overall operational effectiveness.
Within the Mobile Suite, security patrol management and service dispatch seamlessly merge, streamlining officer scheduling, real-time location tracking, and dynamic run sheet management. The dispatch function elevates incident response by swiftly identifying the nearest available officer to a site, simplifying task communication and guaranteeing precise incident reporting, all accessible through an intuitive dashboard.
Our Back Office suite simplifies administrative workflows, minimising human error. Scheduling ensures cost-effective shift management, while time and attendance accurately tracks hours based on your security organisation's needs. Leave management streamlines leave request processing and assesses shift impact for proactive business management.
TrackTik's comprehensive solution represents a transformative approach to security management, empowering security teams to provide enhanced security operational services while minimising errors, optimising resource utilisation, and proactively addressing business needs.